Cygnet Bay Adventure Safari
Horizontal Falls | Buccaneer Archipelago | Cygnet Bay Pearl Farm | Pearl Farm Tour | Sunset In Style | Sea Safari Tour | Coast to Creek Tour
Cygnet Bay Adventure Safari
KL6O

Available:
March - November
Duration:
Flight Time:
2.7 Hours
Departure:
Available Tuesday, Thursday & Saturday
What to Bring:
Swimwear, Towel, Hat, Sunscreen, Overnight bag (10kg), Sunglasses, Camera
Concession $1,640 | Child $1,570 | Family (2A & 2C) $6,380
Cygnet Bay
Pearl Farm
Stay-over
Pearl appreciation session that will leave you feeling like a pearl expert.
Kooljaman at
Cape Leveque
Stop-over
Morning Tea and a swim at Kooljaman Cape Leveque. Home of the Bardi Jawi people
Cockatoo & Koolan Islands
Stop-over
Koolan and Cockatoo Island, home to the world's richest iron ore deposits.
Buccaneer Archipelago
Fly-over
Home to 1,000 islands made of Precambrian sandstone over 2 billion years old.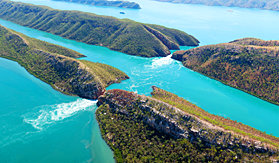 Horizontal Waterfalls
Fly-over
Described by David Attenborough as the 8th Natural Wonder of the World
Tour Highlights
Departing Broome, we fly over King Sound, home to Australia's largest tides and amongst the highest in the world. See the Horizontal Waterfalls from above, described by David Attenborough as the '8th Natural Wonder of the World.'
Marvel at the beautiful view of the Buccaneer Archipelago, home to 1,000 incredible islands made up of precambrian sandstone over 2 billion years old. Overfly Koolan & Cockatoo Island, home to the world's richest iron ore deposits. Explore Kooljaman, Cape Leveque as we stop for light refreshments, a quick swim and enough time to see the beautiful beaches of red rock, white sand and turquoise waters.
We then take the short flight across to Cygnet Bay Pearl Farm, where we are transferred to the accommodation/restaurant for a delicious lunch. After lunch and a quick dip in their on-site pool, enjoy a Pearl Farm Appreciation Tour and then check-in to your Bay View Safari Tent.
After checkin, experience a true Kimberley sunset at a stunning beach location. Cruise out in an amphibious vessel 'sea legs' on your way to a deserted oasis for a swim and then relax in style as you take in 'champagne hour' with a bottle of sparkling.
On return, enjoy a delicious dinner before retiring and relaxing for the night.
The following morning after breakfast and check out, enjoy a Borrgoron Coast to Creek Tour, discovering Cygnet Bay with a 4th generation pearler and proud Bardi man. Share in the stories as you explore the tidal flats, forage for oysters and learn some of the traditional coastal hunting techniques. This 2 hour walking tour requires a reasonable level of fitness as you cross the rocks at low tide under the beautiful Kimberley sun. Enclosed shoes (reef shoes ideal), water bottle, hat and sunscreen are recommended.
After the tour, have lunch and then witness a tidal phenomenon that has to be seen to be believed. This ultimate Sea Safari showcases the unique reefs and tides only found in the Kimberley. Feel the power of the world's largest tropical tides as you cruise amongst the giant whirlpools and standing tidal waves.
Experience an abundance of islands which form the Buccaneer Archipelago, combined with the worlds largest tropical tides.
After the sea safari, we then head back to the airstrip for a scenic flight to see the spectacular bays and beaches of the Dampier Peninsula, Beagle Bay, James Price Point, Willie Creek and Broome's world-famous Cable Beach as we track coastal southbound back to Broome.
---
Photo Gallery
---
Video Gallery