Cape Leveque Buccaneer Scenic
Horizontal Falls | Buccaneer Archipelago | Cockatoo Island | Cygnet Bay | One Arm Point Community
Cape Leveque Buccaneer Scenic
CLQS

Available:
Duration:
1.2 Hours
Flight Time:
1.2 Hours
Departure:
Available Daily
What to Bring:
Hat, Sunscreen, Sunglasses, Camera
2 pax $390pp
---
Please contact the Kooljaman Office on 08 9192 4970 to book or to enquire about available flights, times and prices.
Kooljaman at
Cape Leveque
Start and finish here
Depart from Kooljaman Cape Leveque. Home of the Bardi Jawi people
Cygnet Bay
Fly-over
Witness the world's largest tropical tides as we fly over the tidal flats of Cygnet Bay.
Cockatoo & Koolan Islands
Fly-over
Koolan and Cockatoo Island, home to the world's richest iron ore deposits.
Buccaneer Archipelago
Fly-over
Home to 1,000 islands made of Precambrian sandstone over 2 billion years old.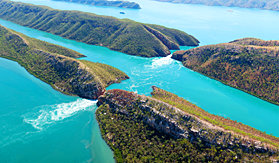 Horizontal Waterfalls
Fly-over
Described by David Attenborough as the 8th Natural Wonder of the World
Tour Highlights
Witness the amazing natural phenomenon the Horizontal Waterfalls, see the spectacular colours and contrasts of the Buccaneer Archipelago and the Kimberley coastline on this scenic adventure. This is the best way to view the wonders of these locations.
Departs from, and returns to Cape Leveque.
---
Photo Gallery